Kelly Woodard
News Director, WRIC 8 News, Richmond, Va.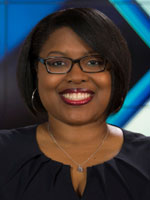 Kelly Woodard is the news director at WRIC 8News in Richmond, VA.
Kelly has spent almost 20 years in the television business and her love for news has never died. Her passion for journalism started in middle school with a homework assignment called "In the News." Kelly had to read the newspaper every day for geography class. By the end of the week, she had to answer questions about various topics in the newspaper. It sounds so old fashioned, but the internet wasn't big back in the late 80's.
Before moving to Richmond, Kelly worked in various newsroom management positions in New York City, Hartford, CT and Dallas. She has also been producer in Dallas and Austin, TX. She got her start in the news business in Lansing, MI.
The Detroit-native attended Michigan State University in East Lansing, Michigan, where she majored in journalism. She roots for the Spartans every chance she gets.
News is a 24-7 commitment for Kelly and she can't imagine doing anything else.