Josie Thomas
Executive Vice President, Chief Diversity & Inclusion Officer, CBS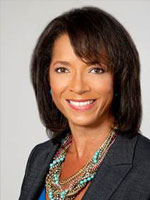 Josie Thomas is Executive Vice President, Chief Diversity and Inclusion Officer, CBS Corporation. In this role, she oversees the Company's commitment to diversity across all of its businesses. She leads multidimensional diversity and inclusion strategies working with senior executives throughout the corporation to develop talent, diverse suppliers, outreach, advocacy group engagement and national industry impact. In addition, she continues to be the executive sponsor of CBS's employee resource groups, while spearheading the CBS Corporation Diversity Council.
Thomas has served as Senior Vice President and Chief Diversity Officer, CBS Corporation and Senior Vice President, Diversity, CBS Television, where she created the CBS Diversity Institute, which provides participants with access to the network television decision-making process while launching and expanding careers in front of and behind the camera. Previously, Thomas was Vice President, Business Affairs, CBS News, Director of Business Affairs, CBS News, Director of Legal Affairs for New York- based Trans World International and Broadcast Counsel for the Law Department of CBS Inc.
Thomas is a graduate of Harvard College (B.A., cum laude, History), Boalt Hall School of Law, University of California, Berkeley (J.D.) and a member of the New York State Bar. She serves on the boards of the Alliance for Women in Media and Komen Greater NYC. She served as Chair of the Institute for Advanced Journalism Studies and later chaired the Board of Visitors at the time of the launch of the Global Journalism and Communications School at Morgan State where she remains on the Board of Visitors. She is a member of the Board of Visitors of the Howard University School of Communications.
Among her many honors and awards, Thomas received the first New York Women's Chamber of Commerce Women of Excellence Award in Corporate Diversity. She was featured multiple times on Savoy Magazine's list of "Top Influential Women in Corporate America" and recognized in 2014, 2015 and 2016 by Black Enterprise as a "Top Executive in Corporate Diversity" and in 2016 the "Media Executive of the Year" Award from African American Women in Cinema.